Handspun wool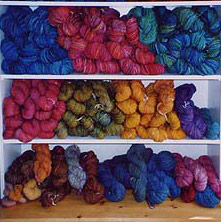 In this website you will find my unique ,100 % woolen yarn; all hand spun and all hand dyed

Sometimes you will find the wool mixed with fibers like alpaca, silk, angora or mohair but the yarn I create always stays 100% natural.

Since colors might look different on your computerscreen, it is also possible to receive a free sample of the yarn of your choice. So you can experience the true color and texture of this yarn before you make your order.
Please note: when larger amounts of wool are ordered, the weight per skein may vary, total weight will be what you ordered. Please include a note with your order if you prefer each skein to weight 50 grams.

---

Off White Wool
€ 4.95
A nice warm white colour as nature intendend has

Limeblossom
€ 4.95
Beautiful yellow-green colour. Wool blended with alpaca
Sild out

Funny Green
€ 4.95
Soft green wool with golden threads and silk fibers

Wool in multi-coloured shades
€ 5.95
.This is a multi-coloured yarn. Handspun and plied with a fine thread of wool

Wool in Cobalt bleu shades
€ 4.95
A bright blue colour with shades of Indiga and Prussian blue, with lighter blue and turqoise tones.

Wool in Expressionistic shades
€ 5.95
.This is a multi-coloured yarn. Handspun and plied with a fine thread of silk.

This way of plying shows a range of colours in which each color gradually blends into the next one, as if it is painted

Celadon-green
€ 4.95
A very special colour of green and blue green, with subtle shades of violet

Wool in golden Yellow shades
€ 4.95
A warm yellow with shades of orange and lighter yellow lending its liveliness

Wool in warm Red shades
€ 4.95
A wonderfully warm red with flames of black alpaca. sold out

Wool in Red shades
€ 4.95
The whole range of the differend shades of red makes this colour very lively

Blue- turquoise
€ 4.95
A lovely colour spectrum ranging from bright blue to turquoise green with subtile shades of violet